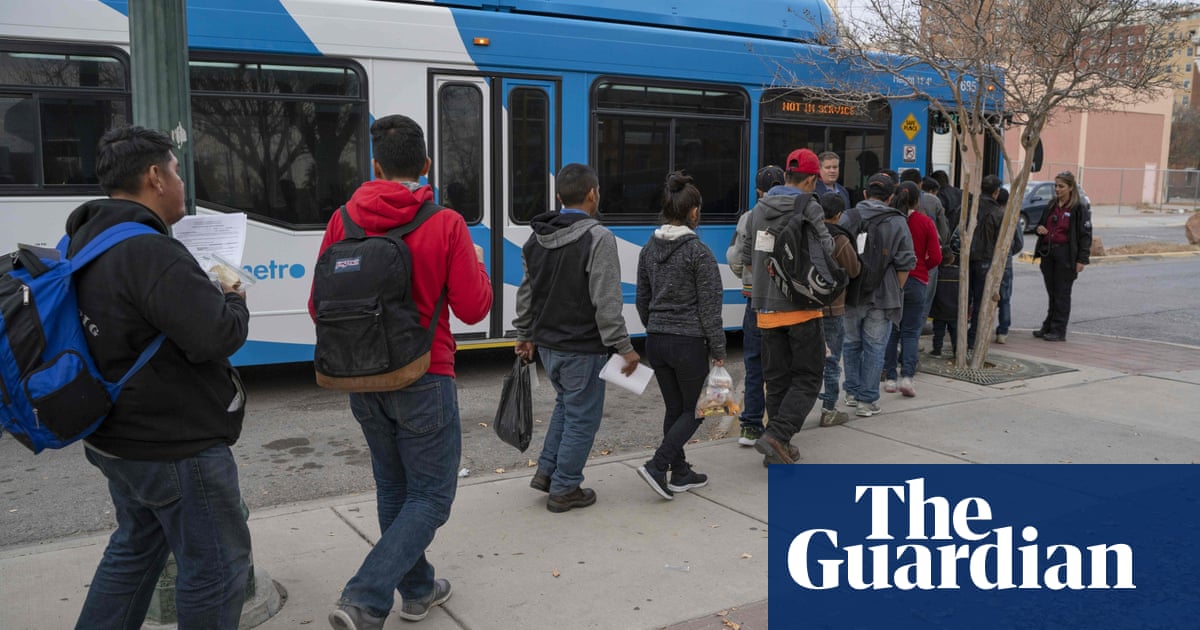 Donald Trump appears determined to send migrants held at the southern border to "sanctuary cities" around the US in a scheme meant to exact revenge on his Democratic foes, despite fierce political opposition and doubts over the legality of such a move.
On Saturday night, to widespread consternation, the president tweeted that it was: "Just out: the USA has the absolute legal right to have apprehended illegal immigrants transferred to sanctuary cities. We hereby demand that they be taken care of at the highest level, especially by the state of California, which is well known or its poor management & high taxes!"
House judiciary committee chair Jerrold Nadler dismissed Trump's claim.
"He has no right to spend money appropriated by Congress for other circumstances," the New York Democrat told CNN's State of the Union on Sunday. "[He should not] use immigrants or people who are claiming asylum as pawns in a fight with political opponents … it's another misuse of presidential power against the law."
Nadler also said he had "heard from whistleblowers" that White House adviser Stephen Miller was the author of the sanctuary cities idea and should appear before Congress to explain it, as he "appears to be the boss of everyone on immigration".
Should Miller claim executive privilege to avoid such an appearance, Nadler said, that would be inappropriate as he "seems to be making the decisions, not the cabinet secretaries who come and go".
Trump has grown increasingly frustrated over the situation at the border, where tens of thousands of migrant families are crossing each month, many to claim asylum. His administration has attempted to stop the flow, and he recently shook up the top ranks of the Department of Homeland Security (DHS), forcing the resignation of secretary Kirstjen Nielsen.
On Sunday Rick Scott of Florida, a Republican member of the Senate homeland security committee, told CNN he did not know if Trump's sanctuary cities plan was "legal or illegal", but added that such cities "are illegal" and show "clear contempt for the law".
Cities with sanctuary policies generally prohibit co-operation with federal immigration police, often by refusing to hold people arrested on local charges past their release date at the request of immigration officers. More than 100 local governments around the country have adopted such polices.
"Why don't we try to solve the problem?" Scott asked. "We don't want illegal immigration, we want legal immigration. I'm from a state that loves immigrants."
Both Scott and Nadler flatly stated that Trump's reported offer to pardon acting homeland security secretary Kevin McAleenan if he ignored the law was wrong.
According to new research, meanwhile, if the administration does attempt to send migrants to sanctuary cities, it would be doing the migrants a favour.
According to a team from Syracuse University in New York, such a move would put thousands of migrants in cities not only welcoming to them, but more likely to rebuff federal officials carrying out deportation orders.
Furthermore, many such locations have more resources to help migrants make their cases to stay in the US than smaller cities. Some of the nation's biggest immigration advocacy groups are based in San Francisco, New York City and Chicago.
In effect, Trump could end up placing migrants in locations that make it easier for them to put down roots and stay in the country. The downside for the migrants would be a high cost of living.
The Transactional Records Access Clearinghouse at Syracuse announced this week that an analysis found that migrants in cities such as New York and Los Angeles are 20% less likely to be arrested than in cities without sanctuary policies.
George Gascon, district attorney for San Francisco, told the Associated Press: "With immigrants being less likely to commit crimes than the US-born population, and with sanctuary jurisdictions being safer and more productive than non-sanctuary jurisdictions, the data damns this proposal as a politically motivated stunt that seeks to play politics with peoples' lives."
The idea to ship migrants to Democratic strongholds was considered twice in recent months but the White House and DHS said it was rejected. Trump then said on Friday he was still considering the idea.
The plan would raise financial, logistical and legal issues. The transportation of migrants to large and faraway cities would be costly at a time when Immigration and Customs Enforcement (Ice) is stretched, having released more than 125,000 migrants pending court dates since 21 December. Migrants are currently being released mainly in border states.
Flights chartered by Ice cost about $7,785 per flight hour, according to the agency, and require multiple staffers including a medical professional. The agency also uses commercial flights. Longer transports would increase liability, especially considering that many in Ice care are families with young children.
The administration actually has plenty of space to detain families. As of 11 April, the nation's three facilities to detain migrant families were nowhere near capacity, including a Pennsylvania facility housing only nine people.
It is also unclear how long the migrants would stay in sanctuary cities, because under current law they are required to provide an address to federal authorities, typically of a family member, as a condition for their release.
"It's illogical," Angela Chan, policy director and senior attorney with the San Francisco-based Asian Law Caucus, told the AP. "It's just alarming that they are spending so much effort and so much time to engage in political theater."
www.theguardian.com/us-news/2019/apr/14/trump-sanctuary-city-idea-migrants